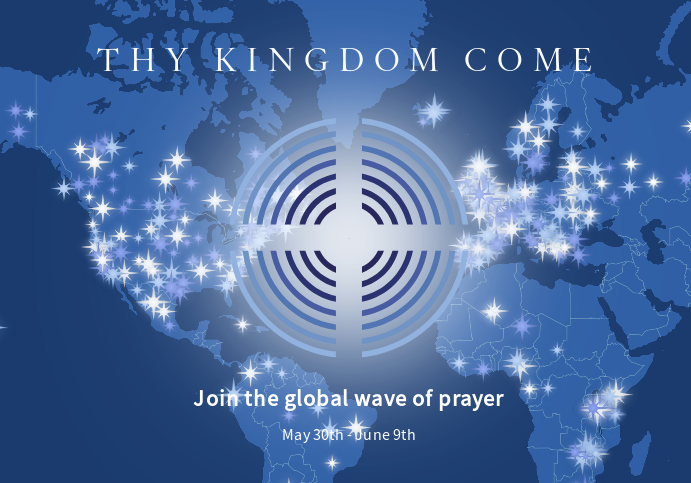 Thy Kingdom Come is a global prayer movement that invites Christians around the world to pray for more people to come to know Jesus. What started in 2016 as an invitation from the Archbishops of Canterbury and York to the Church of England has grown into an international and ecumenical call to prayer.

Thy Kingdom Come runs from Ascension to Pentecost and it is hoped that everyone who takes part will:
Deepen their relationship with Jesus Christ

Pray for God's spirit to work in the lives of those they know

Come to realise that every aspect of their life is the stuff of prayer
---
We are being encouraged to pray for 5 people. Who are you going to pray for?
7 Daily Reflections
The ten day period from Ascension Day to Pentecost has been designated as a period for churches to pay particular attention to prayer. The global prayer initiative known as "Thy Kingdom Come" was launched three years ago by the Archbishop of Canterbury. It is now an ecumenical project which the Methodist Church is a partner in. Churches across the Connexion and across our Circuit will be engaging in a sustained period of prayer for our communities and our nation.
We are asked to pray daily for five people we know to come to faith in Jesus. The title, of course, stems from the Lord's Prayer – possibly the best known and least understood piece of writing in human history! So to help us really get to grips with exactly what Jesus was revealing about the nature of God and the ways in which God interacts with the world and with each one of us, you will find following a series of seven reflections upon different aspects of the Prayer, inspired by a sermon series written by John Ortberg.
At the end of each is a suggestion or two as to how you might respond to what you read. I hope you find it helpful but please resist the temptation to read more than one a day. Take time to live with them and to allow God to speak to you through the course of each day.
Rev Tim
---
REFLECTION 1 : EXPERT TUITION
REFLECTION 2 : THREE PROBLEMS WITH PRAYING
REFLECTION 3 : A TALE OF TWO KINGDOMS
REFLECTION 4 : PLEASE SIR, CAN I HAVE SOME MORE?
REFLECTION 5 : INDEBTED
REFLECTION 6 : JUST ONCE MORE ....
REFLECTION 7 : HAIL CAESAR!?
---